Grand Angle Corporate
Bordeaux Métropole - "Bordo, Métro, Vélo"
The Bordeaux Métropole Communication Department wanted to create an offbeat and humorous digital campaign on cycling in the city. Without a precise initial brief, we are asked to propose, write and produce an original web-series in order to lift the taboos on cycling in order to encourage the general public to move more on two wheels.
We called on actor and author Martin Siméon, who notably created and wrote the series "Our dear neighbors" for TF1 or wrote and directed web series for the Pizza Hut brand and many others. After validation of the scenarios by our client, our team produced a web-series of five humorous episodes and five user interviews providing a more "serious" counterpoint.
Starring actors in incredible, even surrealist situations, these videos were produced with the desire to break the conventional codes of institutional communication.
We wanted to offer formats that were both aesthetic, impactful and short so that these videos would be shared and seen by as many people as possible on social networks.
Data sheet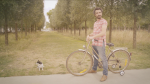 Social media
© Grand Angle Corporate