Grand Angle Corporate
Natural spaces
French Ecological Transition Ministry

Natural spaces : living territories to protect
Thriving on its remarkable natural heritage, France has worked for decades to stop nature's decline. From the fluvial area of ​​the North Valley of Allier to the Vercors Regional Nature Park, through the Calanques National Park and the Réunion Natural Marine Reserve, this film invites us on a journey into the heart of protected natural environments.
Our team has joined forces with the Pedagogical and Collaborative Innovation Sub-directorate (IPEC) to shine a light on professionals committed daily to the environment's protection.
See more on ▶️ Natural spaces .
Data sheet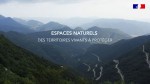 Director : Laurent Buchemeyer
Images : Ianis Cima, Gael Gourde
© Grand Angle Corporate