Grand Angle Productions
Dans l'oeil des RG
After May 68, the government and the police, who had not anticipated the movement and remained traumatized by this revolutionary episode, consider far-left wing groups as new enemies of the State. Leftists are therefore constantly monitored by the French Secret Services, known as Renseignements Généraux (R.G.). Not without reason, since the proletarian left did, at the time, intend to resort to violence. The RG paranoia will lead to spying on any personality suspected of having the slightest sympathy with the far-left, including respectably known personalities. Little by little, this will turn the RG into a real political police.
THE REPUBLIC OF TWISTED COUPS
Heavy-handed methods will continue even after the left comes to power. The internal enemies are always more numerous. And little by little, under the influence of Yves Bertrand, a new particularly machiavellian director, new techniques, both more subtle and perverse, will be put in place on rue des Saussaies, at the R.G. headquarters : manipulation and large-scale intox.
With Jacques Chirac then Nicolas Sarkozy, the R.G. becomes a security service in the he Presidents of the Republic's pay. At a time when the terrorist threat, admittedly present, is not yet as crucial as it is today, domestic intelligence is reverting to its very own 'special' methods : savage eavesdropping, spying on opponents and even monitoring popular news. This misuse of state services will be fatal to the RG. But if the name as such has disappeared, its heritage, its culture and its methods, are still present, even nowadays.
Data sheet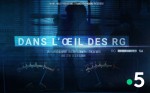 Director : Olivier Toscer
Producer : Grand Angle Productions
Coproducers : France Télévisions, INA
Country of production : France
Year : 2020
Duration : 3x53'