Grand Angle Productions
Fighting IS from the sea
On November 18 2015, five days after the attacks in Paris, the President of the Republic ordered the carrier Charles de Gaulle to sail with her 2000-strong crew. For four months the sailors and airmen of this steel monster will be France's front-line force in the response that is being organized against the terrorists of Daesh
The French nuclear carrier does not set out alone to the coasts of Syria: a veritable fleet sails with her to ensure her protection. Warships specializing in anti-aircraft combat, a submarine detector ship as well as a fuel supply vessel… no less than a half a dozen ships make up the escort.
And that's not all: further ahead, concealed in the deep, a nuclear attack submarine is leading the way.
Exceptionally, the military authorities allowed us to film the daily lives of the crews of the nation's navy over a period of several months. We went aboard with the officers they nickname "the sailors of the sky", the pilots who are fighting this faraway war. We followed the secret missions of the submarine Saphir and accompanied the sailors of the frigate Aquitaine on the very first campaign in the Middle East.
These men and women set sail to combat the mercenaries of Daesh. For two years, this criminal organization has been spreading terror throughout Syria and Iraq, imposing laws from another age and plotting terrorist attacks throughout the world.
You will discover what goes on behind the scenes of "Operation Chammal" or how the war against terrorism is being waged from the sea.
Data sheet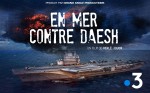 Producer : Grand Angle Productions
Co-producers : France Télévisions
Country of production : France
Year : 2016
Format : HD
Duration : 87'