Grand Angle Productions
Mission 50-51 Job: Astronaut!
From the very beginnings of Man's first missions into space to our days via the preparation of astronaut Thomas Pesquet and his international crew, and the state of scientific knowledge in 2016…
In November 2016, French astronaut, Thomas Pesquet, American Peggy Whitson and Russian Oleg Novitsky will blast off for a six-month stay on the International Space Station.
Between now and then, they will undergo intensive psychological, physical and scientific training.
This first film about Soyuz Mission MS-03 will follow our heroes through their long preparation, demonstrating how Thomas Pesquet, as all his predecessors, in particular Russians and Americans, embodies all that has been learned from the space adventure that has been building for more than fifty years. Through the life of this outstanding young astronaut, and the many experts who accompany him on this experience, we revisit the way in which the training of astronauts has progressed with the increasing number of manned flights and how they have gradually adapted to the evolution of knowledge.
To travel this road to the stars in company with Thomas Pesquet, his team and all those who have gone before him, is a wonderful opportunity to assess the state of knowledge gathered over fifty years of space science.
Data sheet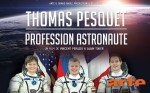 Director : lain Tixier & Vincent Pérazio
Producer : GRAND ANGLE PRODUCTIONS
Co-producers : ARTE
Country of production : France
Year : 2016
Format : HD
Duration : 92'