Grand Angle Productions
When Pearl Harbor changed France fate
Between 1940 and 1945, New Caledonia and the French Pacific Islands are at the center of a secret diplomatic-military battle between Charles de Gaulle, Winston Churchill et Franklin D. Roosevelt, leading to decisive repercussions for the outcome of the conflict.
It was on these territories that the recognition by the allies of the legitimacy of la France Libre and de Gaulle was forged for the first time. It is on these islands that the British and Americans will rely to stop the Japanese advance and build victory over the Empire of the Rising Sun.
Armed with rare archive footage, Charles-Antoine de Rouvre signs an unprecedented documentary, revealing the secret history of this diplomatic-military battle. Unsung World War II episode, yet crucial both for the allies victory in the Pacific and the recognition of de Gaulle and la France Libre.
Gallery
Data sheet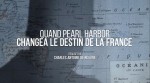 Director : Charles-Antoine de Rouvre
Production : Grand Angle Productions - Guillaume Pérès
With France Télévisions participation
Documentalist : Deborah Ford
Editing : Delphine Dufriche
Narration : Sophie Planet
Original soundtrack : Stéphane Peyrot
Sound editing, mixing : ALLUMAGE
Length : 52 '
With the CNC participation
Support from the Ministry of the Armed Forces, the French Overseas Ministry, Procirep and Angoa