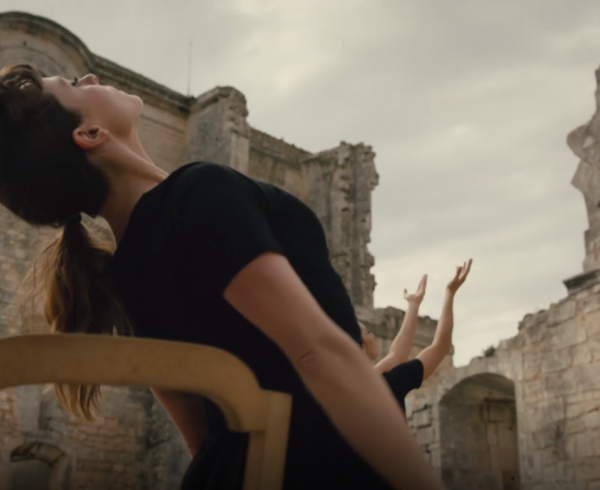 Les Films Jack Fébus
Monuments in motion
Performed by Justine Berthillot and Frédéri Vernier at the Abbaye de la Sauve-Majeure (adapted from the NOOS show). Justine Berthillot and Frédéri Vernier run, embrace, lift each other and fall… In a creative outburst that is unrestrained yet in symbiosis. A blend of strength and weakness, of exploit and respite, Noos is a duo that is both natural and highly sensitive. Musique / Music : Yoann Garel
Available on France.TV :
The Great Ghosts by Yoann Bourgeois
Adapted from "The Mechanics of History, an attempt to approach a point of suspension"
A living exhibition at the Pantheon. On the occasion of the 3rd "Monuments in Movement" season, Yoann Bourgeois enters the Pantheon!
Fixed to the highest point of the Pantheon dome, Foucault's famous pendulum provides the medium for a choreographic creation around movement and balance.
Using four forms of spectacular apparatus – trampoline, turntable, precarious balancing and her famous "Seesaw of Levity", now installed in the monument – the dancer-acrobats, Foucault's pendulum and the audience are the actors in a totally original ambulatory show.
Awarded "Best Live Performance" at the San Francisco Dance Film Festival and "Best Film" at the Dance Screen at the IMZ International Music + Media Center.
Screws & Stones, directed by Gaëtan Chataigner
Alexander Vantournhout stages and tests the capabilities of the human body with Screws & Stones at the Conciergerie de Paris. The show refers to an album by pianist Nils Frahm who, in 2011, broke several fingers and was no longer able to play the piano. He then decides to write several pieces dedicated to each finger in order to be able to continue playing. Inspired by this story, the choreographer Alexander Vantournhout unveils a surrealist universe where the dancers are constrained in their gesture by physical objects that influence their choreography.
I remember saying goodbye, directed by Christian and François Ben Aïm
The choreographic brothers Christian and François Ben Aïm take over the majestic Sainte-Chapelle in Paris. A bewitching moment during which uncluttered music by Piers Faccini and contemporary dance mingle in sobriety.
The meeting, directed by Ambra Senatore
Each year, the Center des monuments nationaux invites choreographers to create within historical monuments. Here, the Italian choreographer Ambra Senatore settles in Marseille, at the Château d'If.
In a continuous beat, directed by Luc Petton
Giotto Solo, directed by Carolyn Carlson at the Panthéon
Data sheet
Directors : Yoann Garel, Louise Narboni, Gaëtan Chataigner, Christian et François Ben Aïm, Ambra Senatore, Luc Petton, Carolyn Carlson
Producers : Les Films Jack Fébus
Co-producers : France Télévisions, Culturebox, Mezzo, M_Media, Centre des mouvements nationaux
Country of production : France
Formats : 4K - HD