Grand Angle Corporate
Bordeaux Métropole - Exposition "Nouvelles espèces de compagnie. Roman."
This film is taken from the corpus of images created for a web series of 4 episodes commissioned by Bordeaux Métropole for the exhibition "New species of company. Novel." by photographer Suzanne Lafont at the Musée des Beaux Arts and related cultural events. Since 2013, several artists are regularly invited to contribute by carrying out unique projects.
Among them, the French photographer decided to go for a walk in the city of Bordeaux in search of the wild plants that mark it out.
We then had to retrace in a single transversal aesthetic and artistic film for the general public all of this artistic work.
Data sheet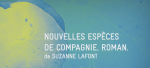 Social media
© Grand Angle Corporate