Grand Angle Corporate
SNCF - "Parenthèse"
To pay tribute to the work of renovating the Bordeaux Saint-Jean train station and its magnificent glass roof, the SNCF Réseau Nouvelle Aquitaine communication department wanted a unique, offbeat creation focused on artistic performance.
Thus, we've developed and proposed the concept of an ephemeral artistic encounter, like a "happenning". "Parenthèse", or the meeting of dance, music and calligraphy, sublimated by the glass roof of Bordeaux Saint-Jean station. During a suspended performance, three artists (Fanny Sage, Gatha and Maaya Wakasugi) take us into their worlds and offer us an ode to the intersection of the arts.
On a piece of music entitled "Le temps de vivre", composed especially for this project by the musician Gatha, the modern dancer Fanny Sage embraces the movements of the calligrapher Maaya Wakasugi. A first and unique performance for these three artists who did not know each other.
This original work co-produced by Grand Angle Productions and SNCF Réseau is a tribute to the glass roof of Bordeaux Saint-Jean station, a veritable showcase of light where cultures and differences intermingle.
In parallel with the production of the film, we designed its digital distribution system. Focused on social networks and with Facebook as the main hub, we have built a "community" several weeks before the main film is broadcast thanks to the 3 teasers. A social media manager piloted the upload and ensured its moderation.
Data sheet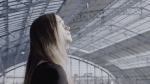 Brand Content
© Grand Angle Corporate